Online Registration
Online registration has been closed.
For registration fee payment, please come to the registration desk on the 5th floor of the Osaka International Convention Center.

Please register yourself before abstract submission. Registration number and password (required upon abstract submission) are obtained at online registration.
Flow of Registration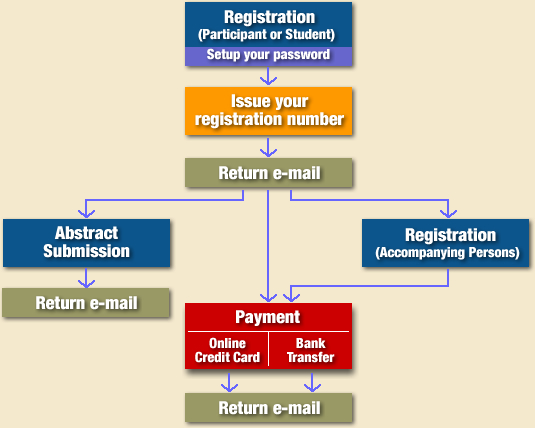 * The flow of Online Credit Card Payment ---> Figure (PDF)
Registration Fees
Registration Categories
Payment received

Before
May 15, 2008

After
May 15, 2008

Participant

55,000 JPY

65,000 JPY

Student *

25,000 JPY

30,000 JPY

Accompanying Person

10,000 JPY

10,000 JPY

Social Banquet booking fee for registered persons

8,000 JPY

8,000 JPY
* A copy of a valid student card or a letter of the supervisor should be sent to the Organizing Secretariat by fax or mail.
Access to the scientific sessions are limited to registered participants and students only.
Fee Includes
Participant or student
Participation at the congress scientific sessions, congress programs, Book of Abstracts and CD ROM. Invitation to the following social events: opening ceremony, welcome reception, and social banquet (with a booking charge of 8,000 Yen).
Accompanying persons
Opening ceremony, welcome reception, and social banquet (with a booking charge of 8,000 Yen). Accompanying persons are also invited to some Japanese cultural programs at the special price. Details will appear shortly in the congress web site.

Method of Payment
Payment of fees must accompany all registrations. No registration will be confirmed until payment is received.
Payment can be made by the following methods: credit cards (Visa, MasterCard, American Express, JCB and Diners Club) or bank transfer in favour of:
| | |
| --- | --- |
| Bank Name | The Bank of Tokyo-Mitsubishi UFJ, Ltd. |
| Branch Name | Senrichuo Ekimae Branch (Branch No. 577) |
| Address | 1-4-1 Shinsenri-higashimachi, Toyonaka, Osaka 560-0082, Japan |
| Account Type | Savings Account |
| Account Number | 399719 |
| Account Name | IUCr2008Osaka |
| SWIFT | BOTKJPJT |
Those planning to pay the registration fee are strongly recommended to use your credit card. If you send your registration fee by bank transfer, all bank charges incurred will be borne by the payee, and please ensure that you enter your registration number before your name. Should you prefer to pay by bank transfer, you must send via fax (+81-6-6229-2556) a copy of the receipt within 5 working days, or the registration and all other services required will not be confirmed.
The secretariat will send a written confirmation to all the participants.
Cancellation and Refund Policy
Cancellations of registrations shall be notified by sending a written and signed document to the secretariat: Fax +81-6-6229-2556. In any case an administrative charge of 5,000 Yen applies. Refunds will be made using the same method chosen for the payment (i.e. payment by credit card will be refunded to the same credit card). For cancellations after May 15, 2008 refunds will be made after the end of the congress.
REGISTRATION
Cancellation notice received
(during office hours: 10:00-18:00, Mon. - Fri.)
Cancellation fee
May 15, 2008
100 % refund cancellation
June 30, 2008
50% refund cancellation
After July 1, 2008
No refund
Visa
To enter Japan, some foreign nationals are required to obtain a visa issued by Japanese Embassy or Consulate in your country. If you need visa, please check [Require] under [VISA] section on the online registration screen. Also, please select your [Nationality] from the pull down menu button.
Kinki Nippon Tourist Co., the official travel agent for IUCr2008 congress, will advise/assist you in Visa-application process.
Privacy Policy
IUCr 2008 Secretariat (Congress Corporation) recognizes the importance of personal information and the importance of our responsibility to protect privacy. To ensure that we meet the demands and earn the trust of society, including our clients, our business partners and all persons engaged, we have established the following "Personal Information Protection Policy" and organization to handle personal information properly.
Group Registration
If planning to register a group of 10 or more attendees, please contact the IUCr 2008 secretariat by e-mail at iucr2008@congre.co.jp.
For More Information
For inquiries about registration, please contact:
IUCr 2008 Secretariat
Congress Corporation
3-6-13 Awajimachi, Chuo-ku, Osaka 541-0047, Japan
Fax: +81-6-6229-2556
E-mail: iucr2008@congre.co.jp
Hours: Monday - Friday, 10:00 a.m. - 18:00 p.m. Japan Standard Time

Please inquire by e-mail if possible.
If you send an inquiry by fax, be sure to mark it to the attention of "IUCr 2008 Secretariat."
If you need to change, add information to, or cancel your registration at a later date, notify the Registration Office by e-mail or fax, indicating your registration number. Note that we are unable to take changes, additions, or cancellations by telephone.
Important Deadlines
Deadline for Payment of Registration Fees at "Early Bird" rate: May 15, 2008.
Link to Online Registration